No More Taxi Scams: Snapp, best taxi app in Iran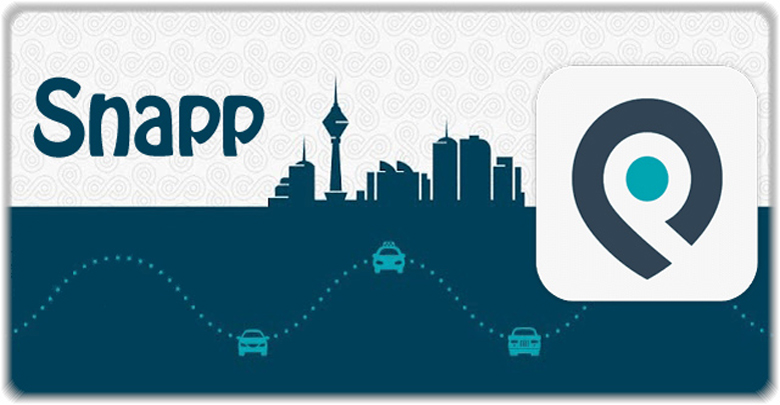 Snapp arrived at the airport, after a few hours of tiresome flight, you want to get to your resort as soon as possible. Not knowing Persian, and identifiable from a thousand feet away as a tourist, you are a good bait for those taxi drivers who are ready to name a price which can break a bank account. But since you are not familiar with the prices, you have to say yes, and avoid the trouble of haggling and the rush of the airport.
Snapp, a taxi app in Iran, has changed that…!
Like Uber, this ride hailing app in Iran named Snapp, calculates the price for you, a price which most likely will not exceed those offered by regular drivers. Competing with another major taxi app in Iran, Tap30 and other counterparts, Snapp has something which is far from a monopoly; so one can be sure the prices will stay reasonable for the time to come. Snapp currently works in more than 15 Persian cities now. The list includes major cities such as Tehran city, Karaj, Isfahan city, Bandar Abbas, Shiraz city.
How to Install a Ride Hailing App in Iran?
For using a ride hailing app in Iran such as Snapp, you only need a SIM card. Mobile SIM cards in Iran are available for a very cheap price at the airport. Fortunately, the Snapp UI is also offered in English and French. The application is available for iOS and Android. Snapp also has a web based version.
After you install Snapp, you will be sent an activation code via SMS. As you enter it when you travel to Iran, you are ready to use. Simply choose your origin (where you are now) and your destination (where you want to go) and tap 'Request Ride'.
You also have the option to choose a second destination. In case you want to visit somewhere like a Tehran tourist attraction, Snapp gives you the option to make an 'Extra Stop' and adjust the time of your pause.
To do that, you have to first set your origin and destination. After the price is displayed, tap "Options" on the bottom right, then tap Extra Stop and a box will be shown, allowing you to choose the duration of your stop. At the time of writing this article, the dialog box was in its original Persian, requiring you to know Persian numerals and the words "دقیقه" meaning 'minute' and "ساعت" which means 'hour'. Choosing a second destination or round-trip is also done in "Options".
Snapp also offers you the option to pay using Iranian debit cards, but the bank interface is totally in Persian, rendering it unusable for people who do not know the language.
How to guide the driver to your location?
Since many drivers of this ride hailing app in Iran only know Persian, it would be useful if you learn a few Persian phrases to direct them to your starting location and destination. 'shoma kojaeed' means "Where are you?", which the driver may ask you over the phone, to be able to pick you up.
It would be a good idea to let them know that you don't know Persian. You should say it like: 'man Farsi balad nees-tam'. You want to stay exactly wherever you have pinned your starting location, and to tell them 'man jaayi ke pin kardam, hastam', letting the Snapp driver know where to find you.
If you and your driver can't find each other, you may ask a nearby person, who you can trust with your mobile phone to guide the driver. The phrase for this is "lotfan raa-nan-de ro raah-na-maa-yee ko-need", meaning "please direct the driver".
Surely, if the driver is not able to find you for any reason, you may cancel that very ride and try your luck with another Snapp driver.
What if I want to choose another application?
In a future article we may cover other taxi apps in Iran and their features, as the number of ride hailing app in Iran are growing fast, some promising to offer more options than those of Snapp. Although there are many drivers who may work for more than one of these companies, but currently it is Snapp which has the highest number of active drivers and the highest availability of rides among them all.