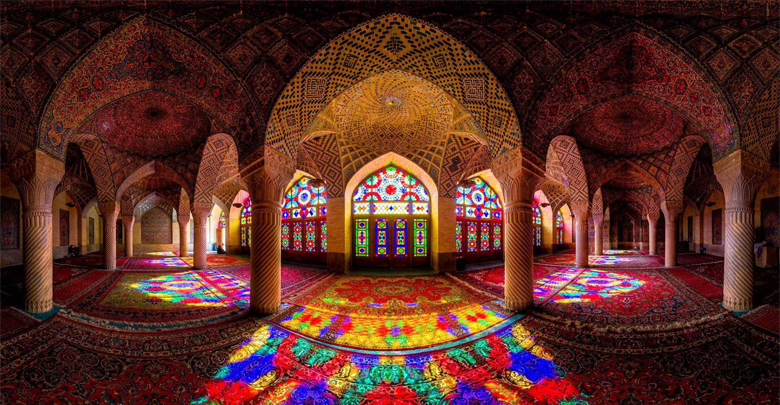 Shiraz city is located at the southeastern part of Iran, and one of the oldest cities of Iran after Hagmataneh, Shush city and Shahre Sukhteh (The Scorched city). It used to be the capital of Persian Empire a few times throughout the ages, and now the leftovers of those times are all reasons to travel to Shiraz, or even your main destination when you Travel to Iran.
Shiraz city is surrounded by mountains and the weather temperature varies from 30 degrees at most in the summer to around 0 in the coldest winters. the best time to travel to Shiraz is during the spring, to witness the blossoming orange trees (best time is at the middle of April) and smell the enchanting scent of the flowers and buds. The springs of Shiraz city is even manifested in the literature and arts of the local artists, such as Saadi and Hafez.
If you are planning to travel to Iran, Shiraz city must be one of your top choices to visit. follow this article of Iran travel guide to learn more about this marvelous city, how to Travel to Shiraz and especially budget hotel and Shiraz hostels:
Travel to Shiraz City
In order to Travel to Shiraz train, airplane and bus options are available. If you are planning to take the train, you'll arrive at Shiraz rail station, which is situated at most north-eastern part of the city. From there you can either use public transport options such as bus or shared taxi in Iran to get to the city, or just hire a taxicab which should cost you around 200.000 to 300.000 RLS depending on your destination or simple use ride hailing apps in Iran, Shiraz like Snapp.
If you are taking a plane to travel to Shiraz, you'll arrive at Shiraz Airport. here you can find out about Shiraz airport.
And the last option is to take the bus to Travel to Shiraz, and depending on which city you are coming from, you'll get off either at Karandish or Amirkabir Terminal.
Shiraz Hostel and Hotels
Niayesh Hostel
This hostel in Iran is the cheapest accommodation choice available among Shiraz Hostel and Hotels. As well as shared rooms, this Shiraz hostel can offer private rooms and there are daily tour offers for purchase here. It is located at the center of Shiraz City, making it easy for you to get around the town on foot.
Address: Gozare Sang siah street, Namazi intersection
Phone number: +98 902 876 0541
Parhami Traditional house
This Shiraz hostel is Located close to Nasirolmolk mosque in the old neighborhood of Shiraz. It is a reconstructed old house, transformed into a traditional hotel. Here, at this Shiraz hostel, you can enjoy staying at a classic Iranian style house, with rooms surrounding a yard full of trees, flowers and a fish pound at the center and at the same time also enjoy the benefits of a high-class hotel.
Address: LotfAli khan Zand street
Phone Number: +98 71 3223 2015
Sasan Hotel
If you are looking to spend the night at a 5-star hotel, Sasan hotel could be a good choice for you. Free Wi-Fi, parking slots, and good location which is just by the metro station, are the merits of choosing this option of Shiraz Hostel and hotels.
Address: Anvari street, Karimkhan Zand Boulevard
phone number: +98 71 3230 2028
Getting around in Shiraz City
Before you begin your Travel to Iran, we recommend you to check out public transport article to get a clearer sight of what is going on here. When you travel to Shiraz, for commuting inside the city, subway, bus, shared taxi and Snapp options are available. Shiraz metro only operates on one line, from north west to south east, all the way to the airport. The trains run from early in the morning until 9 P.M. You can acquire a rechargeable credit card from the ticket booth in order to use the subway and the buses at the same time. Make sure to return the card when you are leaving the city in order to retrieve your deposit.
Attractions in Shiraz City
The ancient capital of the Persian Empire is among top destination choices when people want to travel to Iran. even Travel to Shiraz is the only reason of Travel to Iran for some of the history enthusiasts. The historical sites of Persepolis and Pasargadae are located about an hour drive away from the city, giving you an idea of the greatness of the ancient Iran capital. Aside from that, Bishapour historical site is around 2-hour drive away from Shiraz city, the capital of Sassanid dynasty, home to the largest Iranian ancient sculpture with 8 meters' height and more than 2 tons' weight.
Inside this historical city of Iran, Arg of Karim khan, Vakil Bazaar, and Vakil bathhouse are among the most famous tourist attractions of the city. Qvam Garden, Eram Garden, and Afif Abad Garden are some of the most elegant Persian gardens available in Shiraz city which are highly recommended to visit especially during spring and autumn.
Vakil mosque and Nasir-ol-molk Mosque are two unique and peerless mosques in the country. If you are looking for cultural centers in the city, Tomb of Saadi and Tomb of Hafez, two of the greatest poets in Persian History, are always hosting cultural gatherings and shows. Also, Ghalat village, Baba Koohi mountain and Maharloo lake (the red lake) provide you with some natural sights around Shiraz city.
when you travel to Iran, and especially when you travel to Shiraz city lots of yummy dishes are awaiting you. Kalam polo, Shirin polo, Ash Sabzi, Kufte holoo and Do Piaze are among some of the most delicious and most famous Shiraz City local dishes. Haft khan restaurant at Darvazeh qoran, Sufi restaurant in Satarkhan boulevard and Qavam restaurant in Roodaki street, Karimkhan boulevard are among some of the most famous restaurants in the city.
As long as you are in Shiraz city, we recommend you to try local Iranian dessert and sweets such as Araghs, Sherbets and also Shirazi Faludeh at Shekar Riz icecream shop, behind Castle of Karim khan.
Shiraz City Souvenirs, mementos of your travel to Iran
If you travel to Iran and especially Shiraz, you sure want to have some local souvenirs. Shiraz city is famous for handcrafted rugs, shoes, copper containers and utensils as well as the local sweets. You can get your hands on all of them in Vakil Bazar.