Saraye Moshir, Old Bazaar of Shiraz City
Saraye Moshir or Saraye Golshan is a traditional and one of the oldest bazaars of Shiraz City which is located in the south of Bazaar of Shiraz. This Shiraz shopping Center was founded during the Qajar era commissioned by Mirza Abolhassan MoshirolMolk, the minister of that time. This complex is separated from the Bazaar of Shiraz, but not anyone can notice the difference. The significant difference in this Shopping Center is the big courtyard which includes a big blue pool in the center and is decorated with green tall sour orange trees around the yard.
Being close to Shahcheragh Holy Shrine and Vakil bath has turned this place into a social hub for visitors, especially, those from abroad. Mesgarha bazaar is also at the end of the Moshir bazaar.
Follow this article from Iran Travel Guide Center to find out more about one of the Shiraz shopping centers of handicrafts.
Accessibility to The Saraye Moshir
At the Intersection of LotfAliKhane Zand with Ahmadi street (Serah Ahmadi) is Ordu bazaar which leads you to Mesgarha bazaar and Moshir bazaar and finally Saraye Moshir.
If you're visiting Shahcheragh holy shrine, it's only 25 minutes walking to the old bazaar of Shiraz; also, you easily can take a taxi.
Zandieh Metro station and Shahrdari bus stop are the closest public transport stations to this part of the Bazaar of Shiraz.
Open days and hours of Saraye Moshir
Every Shiraz shopping store opens Saturday to Thursday from 10 A.M to 1 P.M and in the evening from 6 P.M to 10 P.M.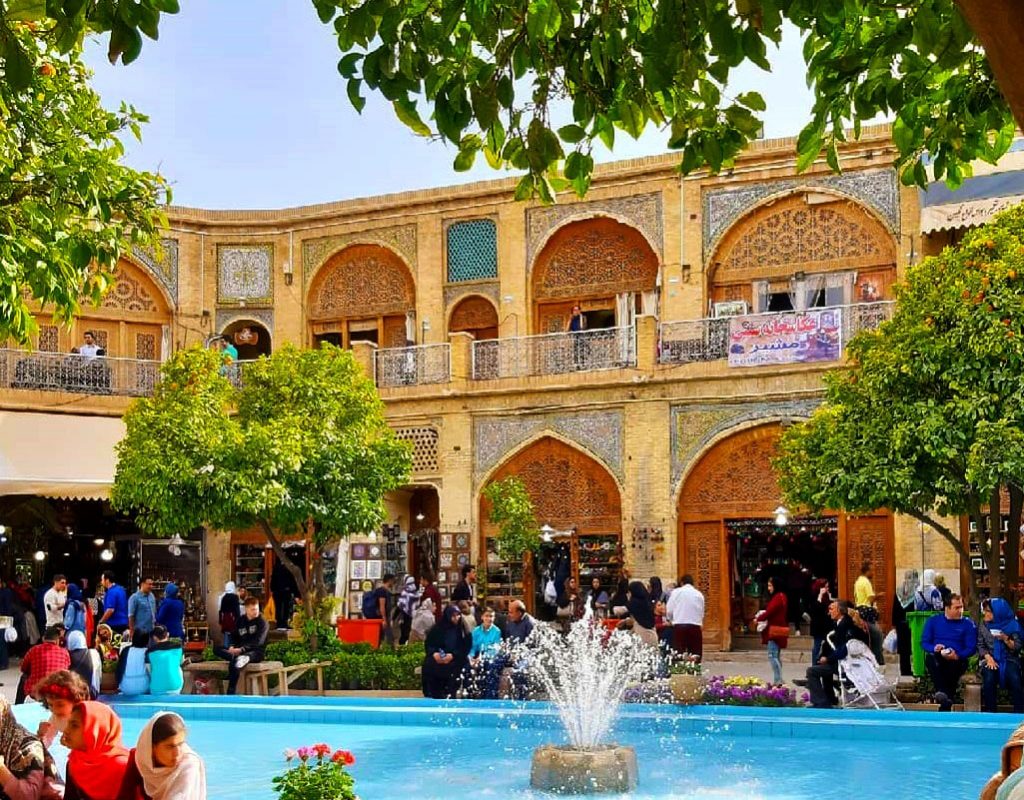 More Information About Saraye Moshir
Above the main entrance door, you can see marvelous tiles which show off Islamic-Persian art and architecture. At the center of these remarkable tiles, you can see the inscription that shows this memorable monument is constructed in 1288 AH. The founder of this monument dedicated it to one of the Islamic Shia's successors.
The last time it has repaired was in the Pahlavi period before the revolution. Before that, Saraye Moshir was used as a tea house.
The whole building is designed in an octagonal shape. All around the yards, Shiraz shopping handicraft stores are selling handmade-goods to the buyers. This complex is a duplex and some of the stores on the second floor have a veranda facing the yard. On the first floor, shops are connected by a corridor that leads to the courtyard.
What is best to buy at this Shiraz shopping center?
By walking around Saraye Moshir, one of the most antique bazaars of Shiraz, you can find any handicraft of Fars state. In addition to stores, you can find handicraft production units, watching them with joy and so, producing painted mosaic or engraving on woods or metals especially, copper.
This shopping center is also one of the best places where you can get your hands on the original Khatam (an ancient Persian technique of inlaying). You can find these souvenirs at fair prices.
At the end of browsing different Shiraz shopping stores here, it is good to take a break and seat under the shadows of sour orange trees, listen to the sparrows chanting especially, in the evenings, and feel refreshed by the nice and cool breeze that touches your face while eating Faloodeh (Iranian sweet dessert) or Shiraz traditional ice cream.
If you feel hungry you can go to Saraye Mehr's traditional restaurant which is close to Saraye Moshir and it's on the way to Moshir Bazaar.