Ferdows Garden
Iran Museum of Cinema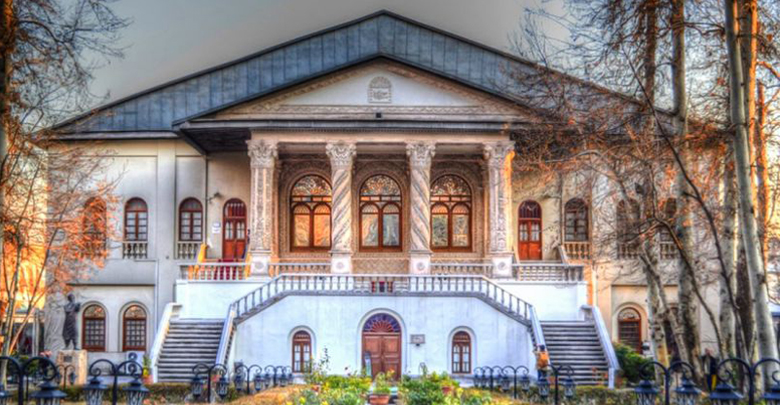 Ferdows Garden, The Cinema Museum of Iran

Ferdows Garden is a good exhibit to understand "what an Iranian garden is". This building was constructed during the Qajar Dynasty and transformed into Iran Museum of Cinema 2 decades ago. today, it is one of the best gardens in Tehran, helping you to understand Iranian exterior architecture better. this is one of the favorite places for photographers. every day dozens of locals and tourist get here only to capture the beauty of Ferdows Garden and cinema museum of Iran.
Overlook of Ferdows Garden

Accessibility: to get to Ferdows Garden Via Public transport, you can either take Line 1 of Tehran Metro (color-coded in red) and drop off at Tajrish station or Take the BRT bus to Tajrish and drop off at "Bagh-e Ferdows" station.
Open days and hours: cinema museum of Iran is open Sundays to Thursdays, 9 A.M until 7 P.M and Fridays from 2 P.M until 7 P.M.
Ferdows Garden is closed on Saturdays!
Entrance fee: 200,000 RLS
Website: http://cinemamuseum.ir/?p=MainPage
Phone number: +98 21 22705005-9
The Cinema Museum of Iran's Summary
Ferdows Garden and the cinema museum of Iran were first established during Mohammad Shah of Qajar Dynasty. It was a housing palace of one of the Royals and was supposed to be one of the most elegant gardens in Tehran. Muhammad Shah had ordered a palace to be built at this neighborhood called "Muhammadie". But he passed away before the building could be finished.
Nevertheless, it made others think about settling here and building the palaces of their own. Ferdows Garden was one of those buildings. It is designed in Qajari Fashion on two levels. The moldings and pillars especially are good representatives of that era's architecture.
The word "Ferdows" originates from ancient Persian word "Pardis" or paradise. Ancient Persians believed that paradise was an evergreen garden. So they dedicated extra effort in replicating the heaven on earth.
The Garden is boasting with tall trees and colorful flowers. The walk ways and mosaics lead to water fountains in every direction of the Garden. this design still is rare to find amon gardens in Tehran and Iran.
Later on, Ferdows garden underwent various transformations such as school, Film-making College and so on. In the year of 2000, it was transformed into the Cinema Museum of Iran.
The Halls of Iranian Cinema Museum
This cinema museum of Iran has 7 Halls in which the Filming related equipment is presented:
Hall No.1: the equipment related to the early years of the invention of camera and creation of film industry in the world and its arrival to Iran.
Hall No.2: the equipment related to Iran cinema between the years of 1950 to 2000 with dedicated tables of some of the most famous national actors and actresses.
Hall No.3: the equipment related to Iran cinema's international trophies and dedicated tables of the most famous International Iranian Filmmakers and artists.
Hall No.4: the equipment related to the holly defense cinema
Hall No.5: the equipment about Armenians and Iran Cinema. Armenians where among the first people who started making and editing films in Iran
Hall No.6: that equipment about teenagers and children cinema
Hall No.7: Equipment of dubbing, sound and music room
More Info about Cinema Museum of Iran

Ferdows garden usually is the host of cultural events such as live performances, theater shows, Iranian classic arts and etc.it this is one of the most active gardens in Tehran.
There are 2 cafeterias available at the garden:
Cinema Cafe: it is located at the right wing of the Ferdows Garden. The menu is also worth pointing out because most of the servings are named after famous movie's characters, events and etc.
Viuna Cafe: a Branch of Viuna Chain Store is located in Ferdows Garden and maybe this is the best one of them all.
Theaters: Ferdows Garden has 2 Movie theaters. You can get the tickets either online or from the ticket booth in the garden.
Gift shops: a couple of gift shops are available in Ferdows Garden. You can get your hands on clothes, accessories, sweets and etc.