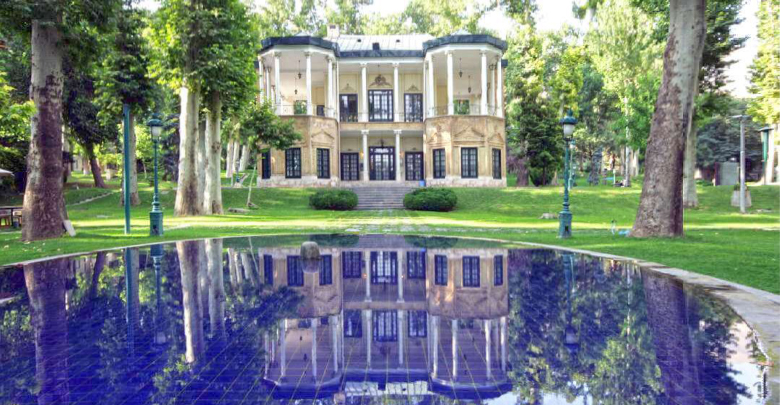 Niavaran Complex (Niāvarān) is a cultural historic palace situated in north of Tehran (Shemiran), Iran. It consists of several buildings in a wide, flourishing garden, dating back to the Qajar and Pahlavi periods.
Niavaran Complex, and also Sa'dabad Complex, both were the main governmental center in Pahlavi era, specifically in second Pahlavi period, Mohammad Reza Shah.
To get to know more about this cultural historic palace, Niavaran Complex, follow this article from Iran travel guide.
Overlook of Niavaran Complex
Accessibility: The nearest station, whether Tehran Metro or any bus and (bus rapid transit network in Iran) BRT stop, is Tajrish. To reach Tajrish square take metro line 1 (color-coded red) or BRT 7 (color-coded dark green) and drop off at Tajrish Square.
Henceforth, take taxi to Shahid Bahonar (Niavaran) square. From there, you must take 5 minutes of walking to get to Niavaran Complex.
Another easiest way is take an exclusive taxi called Snapp Taxi (Iranian Uber).
Opening Days and Hours
First half of the year: 9 A.M. to 7 P.M.
Ticket sales only opens until 6 P.M.
Second half of the year: 9 A.M. to 6 P.M.
Ticket sales only opens until 4 P.M.
Niavaran Complex is open every day of working days but not on these dates:
4th and 6th of June, 30th of September, 1st of October, 17th of November, 9th of July
Entrance Fee: main entrance of the complex and Niavaran Palace and also Jahan nama museum, each requires 150,000 RLS. other entrances require 80,000 RLS each.
Niavaran Complex is located in a 11 hectares of Niavaran garden. This building, first being constructed by the command of Fath-Ali Shah of the Qajar dynasty for his summer residency.
Niavaran Complex constructed near a village called Gord-e Vey instead of canebrakes existed there.
The following Qajar king, Mohammad Shah, made the development and construction of the building.
Nassereddin Shah, next Shah of Qajar dynasty commanded to build his own palace, Saheb Qaranieh.
The last but not the least palace that made in Qajar era was Ahmad Shahi Pavilion.
In Pahlavi eras some buildings were destroyed.
Finally, Niavaran Complex and this cultural historic palace, has been built in modern style to accommodate Shah and his family.
Niavaran cultural historic palace and Sa'dabad Complex were jointly run together until 1999.
The quadrangle shape of the palace and its internal architecture are inspired by Iranian designs.
This Complex has become conquered by the revolutionary forces in 1978. Since then, in 1997, government of Iran decided to put Niavaran cultural historic palace in public.
In addition of the buildings, museums are included in the complex.
• Jahan-nama museum: in Persian Jahan-nam means: that which reflects the whole world. This museum embrace all the relics gifted to Pahlavi or the antiques they've provided from all over the world.
• Royal library museum: in addition to the books, presence of piano and audio equipment use the space as a music room.
• Exclusive car museum of Niavaran palace: in here, Pahlavi Family special cars are shown.
• Garden of the inscription museum: it contains 43 inscriptions in different languages from different periods.
More info about Cultural Historical Palace of Tehran, Iran
Saheb Qaranyeh and Hoz-Khaneh is closed for pathological studies, there for if you're planning to visit those places make sure they are open.