Iranian crown jewels
Daria-i-noor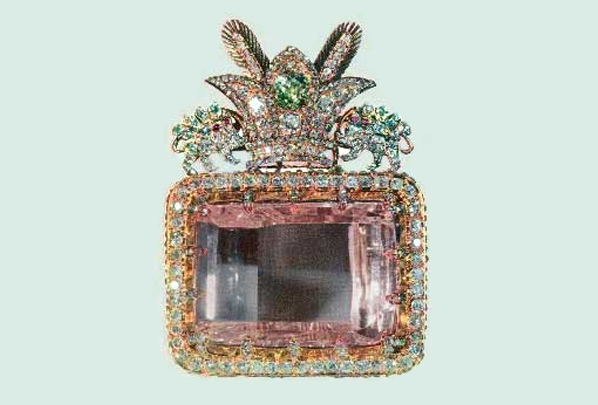 Iranian crown jewels is gathered by former Persian kings in national jewelry museum which is positioned in the central of Tehran City on Central Bank of Iran and it has one of the finest and most extensive collection of jewelry in the Iran even in the world which includes Iranian jewels from Safavid (صفویه– Sa-fa-vi-ye), Afsharid (افشاریه- Af-shaa-ri-ye), Qajar (قاجاریه– Gha-jaa-ri-ye) and Pahlavi (پهلوی– Pah-la-vi) dynasties.
Here are the stories and specifications of three Iranian jewels that you should to know about them and also they are most prominent Iranian crown jewels in the world.
The name of first one is Daria-i-noor (دریای نور– it means Sea of Light in Persian language) which is the largest pink diamond ever discovered and it's one of the oldest pink diamonds in the world.
It has a twin which is called Koh-e-Nour (کوه نور- it means Mountain of Light in Persian language).
The dates' back to 17th century and it has an exceptional size as well as particular quality among of Iranian crown jewels.
They are the most well-known diamonds in the world and they are belong to Iranian jewels treasury but already only Daria-i-noor is available in National jewelry museum and Koh-e-Nour is kept by London government.
Iran tourism would like to describe more about Daria-i-noor diamond which is part of the Iranian crown jewels and it had also mysteries and long stories before it was given to this collection.
In fact, the Darya-i-Nur comes with a rich and ancient Iranian royal heritage.
Everything About the Owners of Daria-i-noor Diamond
Both Daria-i-noor and Koh-i-Noor as fantastic diamonds are brought by Nader Shah Afshar (نادر شاه افشار- Nader is a first Afsharid king) on 1739 from India and he gave current names to diamonds.
When Nader Shah Afshar (نادر شاه افشار- Na-der shah Af-shaar) defeated Indian king on the attack of Delhi, Indian king had to give up all of his valuable stones and Nader shah brought a treasury of jewelries including the Daria-i-noor and the Koh-i-Noor with himself from there to Iran.
After that, Shahrokh Mirza (شاهرخ میرزا- Shah-rokh-mir-za) as the Grandson of Nader shah took the diamonds after Nader's death.
Afterward, Lotfali Khan Zand (لطفعلی خان زند- Lot-fa-li-khan-e-zand), a king of Zandiye (زند- zan-di-ye) Dynasty, had the Darya-i-Nur in his collection.
When Agha Mohammad Khan (آقا محد خان قاجار- A-gha- mo-ham-mad- khan), the founder of Qajar dynasty, was victorious over the Zand's last king, the diamond was acquired by the Qajar dynasty.
Thenceforth, Fathali Shah Qajar (فتحعلی شاه قاجار– Fat-ha-li-shah-Gha-jar) inscribed his name on one of the face of diamond.
After that, Reza Shah as the founder of Pahlavi dynasty used the Daria-i-noor on his crown for his coronation in 1926.
Finally, it was also worn by Mohammad Reza Shah Pahlavi for a similar ceremony in 1967.
Iran Travel Guide described this fact that some people in the East India Company eventually gained the Darya-i-Nur and displayed it at London's Crystal Palace Exhibition in 1851. However, during unexplained events, and now officially is at the Central Bank of Iran where the Iranian crown jewels are kept.
Consequently, the diamond has been stayed after Iranian revolution since 1979 on Central Bank of Iran.
Daria-i-noor Specifications as One of the Famous Iranian Jewels
The dimensions of the Darya-i-Nur are about 7.2 centimeters high and 5.3 centimeters wide.
Iran Travel Guide Center noted that Edwin William Streeter (he described himself as 'Diamond merchant, Goldsmith, Jeweler, Watchmaker') commented on the marvelous appearance of the Daria-i-noor in his book "The Great Diamonds of the World," published in 1882.
Edwin William Streeter also confirms that weight of the diamond to be exactly 186 carats in his book.
This stone appears to be completely pure, and exceptional clarity which basically refers to the excellence.
Some people believe that it came from a Golconda Mine (placed in Southern India).
This diamonds contain either immeasurable quantities of nitrogen or none at all and these specifications make this diamond unique.
The diamond is unique due to its light-colored pink and currently it is a part of the Iranian crown jewels.
Some Canadian scientists had a research base on the Iranian crown jewels in 1965 and they found that this diamond is belonged to a large pink diamond as the Great Table Diamond in India.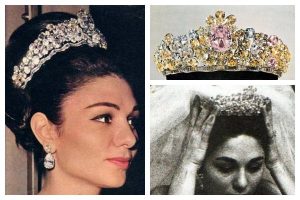 Noor-ol-Ein as One of the Famous Iranian Jewels
Some people believed that Daria-i-Noor was cut into two part and the largest diamond became the Daria-i-noor and the other part with 60 carats weigh was called the Noor-ol-Ein.
Noor-OL-Ein was placed on Farah's crown as last queens of Pahlavi era on 1960 by Harry Winston who was a famous American jeweler and had a king of diamonds title.
Taj-e-Mah as One of the famous Iranian Jewels
Furthermore, Taj-e-Mah is another splendid diamond as one of the Iranian crown jewels on National jewelry museum.
Definitely, both Daria-i-noor and Noor-ol-Ein have same origin and also had been cut from the same diamond as the Great Table Diamond but the Taj-e-Mah (it means Crown of the Moon in Persian language) has different origin.
It is also considered as an attractive diamond and the largest unseated Indian diamond in the collection.
According to Edwin William Streeter data, the diamond weighs is 146 carats.
The attendance of the Taj-e-mah among the Iranian jewels in the National jewelry museum had been known for a long time.
John Malcolm as British diplomat went to Iran in the 19th century and he was allowed by Fath Ali Shah to visit this diamond.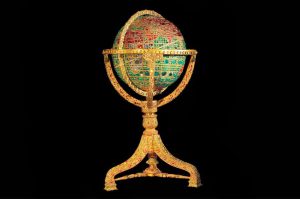 Golden Globe as One of the Iranian Crown Jewels
There is also another precious golden globe which was covered by 3656 Grams of available jewelries and the weight of golden globe without jewelries is about 34 kg and is covered with over 51000 gems.
This gem made by Naser-e-din Shah (ناصر الدین شاه- Naa-se-re-din Shah) Iranian jewelers.
All sea and oceans shows with emeralds and also all lands covered by rubies and the equator is covered by diamonds.
The biggest ruby in the globe is about 75 carats.
The largest emerald is about 175 carats and the biggest diamond is about 15 carats.
Total height is 110 cm and with a diameter of 45 cm.